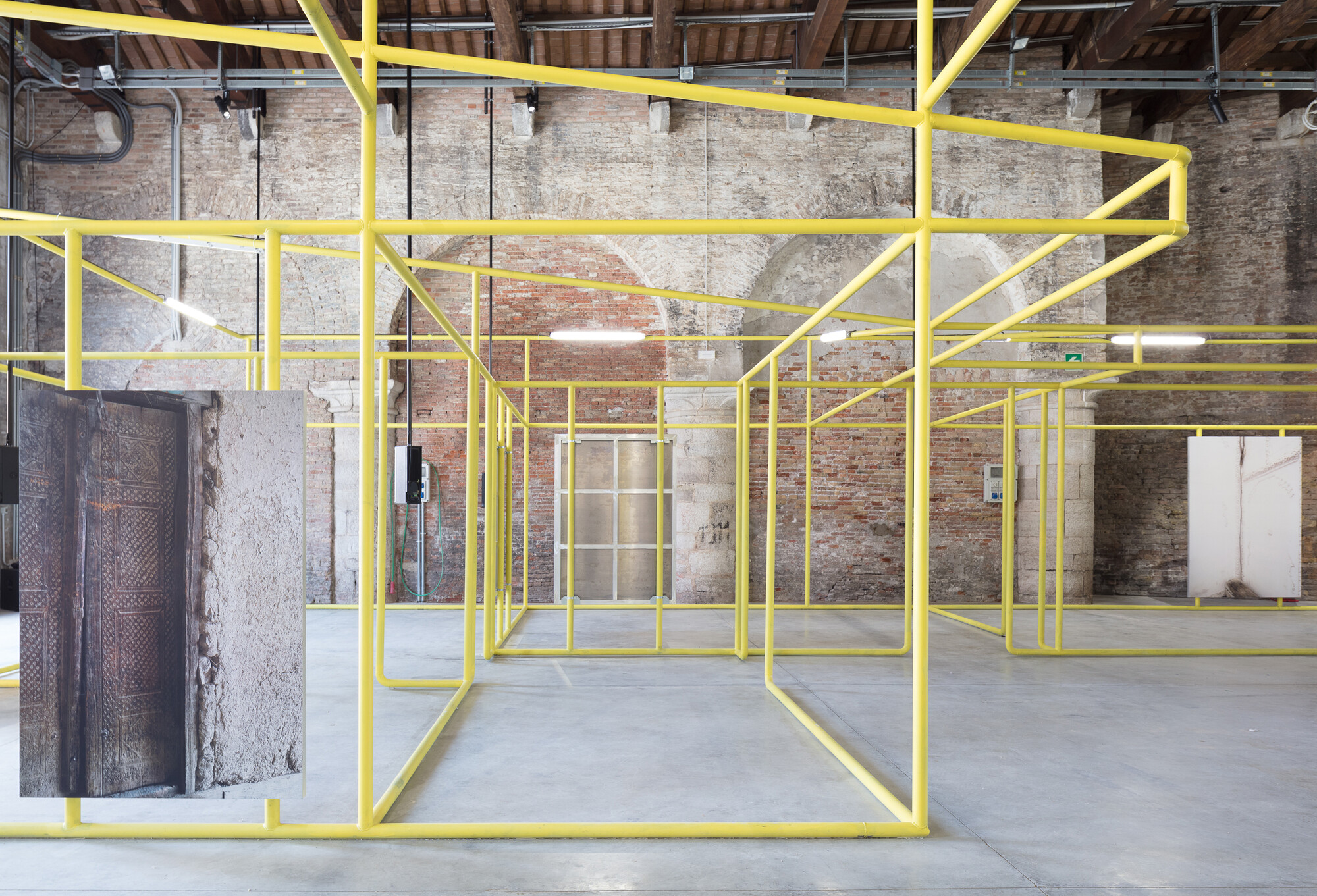 Mahalla Stories – Video & Film
The Republic of Uzbekistan participates for the first time in the 17th International Architecture Exhibition – La Biennale di Venezia with the exhibition Mahalla: Urban rural life, commissioned by the Foundation for the Development of Art and Culture under the Ministry of Culture of the Republic of Uzbekistan, organized by Emanuel Christ and Christoph Gantenbein, professors of architecture and design at ETH Zurich, and founding partners of Christ & Gantenbein, and presenting works by Spanish filmmaker Carlos Casas, Dutch photographer Bas Princen and CCA Lab Tashkent.
Along with the current exhibition, Uzbekistan presents "Mahalla Stories", a series of educational events and programs that take place in August and October, including concerts organized by sound artist and filmmaker Carlos Casas and lectures organized by ETH Zurich. "Mahalla Stories" will present the public at the Venice Biennale with an overview of local Uzbek music and sound ecology; on how the mahallas influenced the work of artists; on the creative process behind the exhibition; and of course, on Uzbek architecture.
A selection of these events will be broadcast on e-flux on August 24, 25, 26 and 31.
Program
August 24, 4-6 p.m. CET, Uzbek Pavilion – Streaming
Concert
Organized by Carlos Casas
The famous Shodiyona set and the singer maqom Khushnud Solijonov together will demonstrate the beauty of traditional Uzbek musical culture.
Karnay and surnay are two very similar Uzbek instruments, but at the same time different. Nicknay is considered to be the closest relative of the Caucasian zurna since ancient times. Due to its rare and powerful sound, the nickname has become one of the main national musical instruments. Karnay is a long copper pipe made up of two or three elbows. Strictly speaking, it is not even a musical instrument, but a signal instrument. It is difficult to confuse the sounds of karnay with anything else because after hearing it once, you can recognize it among thousands of other sounds. Karnay and surnay are widely used together in various national celebrations, including marriage and birth ceremonies.
The art of maqom is a unique phenomenon in the culture of artistic song of the peoples of the Middle East: it has its origin in pre-Islamic antiquity, and its formation and development are associated with the era of the "Eastern Renaissance". .
–
August 25, 6-7 p.m. CET, Palazzo Grassi – streaming
Open discussion
Chloe Drieu (CNRS researcher) discusses Uzbek cinema and culture with Saodat Ismailova (director and artist) before the screening of the Uzbek black and white comedy All the Mahalla is talking about it (1960), directed and produced by eminent Uzbek filmmaker Shukhrat Abbosov. The film is considered one of the best Uzbek films of all time, and Shukhrat Abbosov, who received a USSR National Artist Award for his works, is celebrated as one of the founders of the industry Uzbek cinema.
The events of the film take place in a mahalla, a traditional Uzbek neighborhood, in an old part of Tashkent, at a time when large-scale construction work is taking place. The film humorously depicts the relationship between traditional parents and their modern children.
–
August 26, 2 pm-5pm CET, Uzbek Pavilion – Streaming
Discussion: Architecture of commons
Emmanuel Christ and Christoph Gantenbein, curators of the Uzbek Pavilion, will engage in a discussion with Tom avermaete, Artyom Kosmarsky, Anna puigjaner, Alexey Ulko (moderator), and Gayane Umerova on the implications that the commons, as social, economic and political processes, have in architecture and urban design.
Christ & Gantenbein is an international firm dedicated to the broad field of architecture founded in 1998 by Emanuel Christ and Christoph Gantenbein and headquartered in Basel, Switzerland. The company's most significant completed projects include the expansion and transformation of the Swiss National Museum in Zurich and the extension of the Kunstmuseum Basel, two world-class cultural monuments. In 2020, the office completed the multifunctional Lindt Home of Chocolate, a monumental yet versatile space for Lindt & Sprüngli in Zurich. In addition, C&G is working on a wide range of projects across Europe, including a social housing development in Paris, a multi-purpose office building for Roche in Germany, the extension of the Wallraf-Richartz museum in Cologne, a building of housing and offices in the historic center of Hamburg, a new laboratory and office building in St. Gallen, and more recently the extension of MACBA in Barcelona. Practice and research are closely linked in the work of Christ & Gantenbein, an aspect which is reflected in the continuing academic teaching of Emmanuel Christ and Christoph Gantenbein. Since 2018, they have been full professors of architecture and design at ETH Zurich. Publications include Italy Pictures (2011), Christ and Gantenbein around the corner (2012), Typology: Hong Kong, Rome, New York, Buenos Aires, Zürich (2012) and Typology: Paris, Delhi, São Paulo, Athens (2015).
Tom avermaete is professor of history and theory of urban design at ETH Zurich. His research focuses on the architecture of the city and the evolution of the roles, approaches and tools of architects and urban planners from an intercultural perspective. Recent book publications include Architecture of the welfare state (with Mark Swenarton and Dirk van den Heuvel, 2014), The balcony (with Rem Koolhaas, 2014), Casablanca – Chandigarh (with Maristella Casciato, 2015), Europe shopping towns (with Janina Gosseye, 2017), and Acculturation of the shopping center (with Janina Gosseye, 2018). Avermaete organized the exhibitions In the desert of modernity (Berlin, Casablanca, 2008, 2009), Casablanca – Chandigarh (Montreal, 2015), and Lived-In: the modern city as a performative infrastructure (Antwerp, 2017). He is editor of OASE.
Artyom Kosmarski is a Moscow-based social anthropologist (HSE University Cultural Research Institute). He has conducted extensive research in Uzbekistan since 2002 focusing on the city's vernacular narratives and the oral history of urban spaces, particularly what mahalla means to people in Tashkent, the capital of Uzbekistan.
Anna puigjaner is Associate Professor of Professional Practice at Columbia GSAPP and Coordinator of Core I Architecture Studios. Puigjaner unites theory and practice by combining academic, research and editorial work with the professional activity of MAIO, an architectural firm co-founded in Barcelona in 2012. MAIO collaborates with artists and practitioners from outside and is particularly interested in the development of new models of collective housing. Recent projects include "110 Rooms" – an innovative 22-unit housing block in Barcelona – and a series of exhibition designs for the Milan Furniture Fair and the Barcelona Museum of Contemporary Art, among others. His ongoing research and writings on the "City without a Kitchen" have been published in various forms, notably in The quantified house (Lars Müller Publishers, 2014) and Together! The collective's new architecture (Ruby Press, 2017).
Alexey Ulko holds an MEd TTELT degree from the University of Exeter (UK), and is a member of the European Society for Central Asian Studies, Association of Art Historians (UK ) and the Central Eurasian Studies Society (United States).
Gayane Umerova is Executive Director of the Foundation for the Development of Art and Culture under the Ministry of Culture of the Republic of Uzbekistan and Secretary General of the National Commission of the Republic of Uzbekistan for UNESCO. Gayane holds a BA in Business Administration from the University of Westminster and an MA in Art Commerce from Sotheby's Institute of Art, University of Manchester. In 2014 and 2015, she was also a consultant at Christie's auction house. After more than ten years at the Uzbekistan Art Gallery, she was appointed Deputy Executive Director of the Foundation for the Development of Art and Culture under the Ministry of Culture of the Republic of Uzbekistan (ACDF ) in 2017.
–
August 31 from 3 p.m. to 6 p.m. CET, Uzbek Pavilion – streaming
Sound sessions at the Uzbekistan Pavilion (concert)
With Enrico Malatesta (percussions / objects), Giovanni lami (samples, electronics), and Glauco Salve (field recordings, electronics)
The Uzbekistan Pavilion is pleased to invite three of Italy's most interesting musicians and sound practitioners, whose practice blurs the boundaries of improvisation, sound ecology, object resonance and practices of deep listening. A special live improvisation session using percussion / objects, field recordings, samples and electronics and activating the horn with new sounds.